Sampling and Gauging Tanks + Valves​
ASTM D1265
GPA 2140
Practice for Sampling Liquefied Petroleum Gases (Manual Method).
Art. LT/SC-163100/M
Sampling Cylinder - ASTM D1265
Completely made in stainless steel AISI 304

½ gas tapered connection and ¼ gas charge - capacity available: 50,100, 250, 300, 500,1000 ml

Fitted with 2 stainless steel AISI 316 valves and a 20% outage tube

Certificate for pressure of 100 bar
Art. LT/CF-167000/M
Connection Filter
Useful to connect to the cylinders

Body in brass

Filtering Perlon mass with ¼" connections

Art. LT/LT-168000/M

Line Trasferring Block

Consisting of two cocks with joint

Accessories

LAB-101-635: protection collar, protects valves and cylinder
Spare Parts
LT/SV-184000/M: stainless steel valve
LAB-101-801: stopper for valve 1/4"
LAB-101-635: protection collar
Alternative Products
A sentence here about related products with image links below to products you want customer to consider.
Sampling and Gauging Tanks + Valves
For more information on this product or to arrange a call from one of the Cea Petrochemical Team, please complete the contact form below.
Art. LT/SV-184000/M
Stainless Steel Valve for Art. LT/SC-163100/M
AISI 316 stainless steel body and pin

¼ cylindrical gas charge and ½ tapered

Right angle gas connection

Stuffing box

Safety stop system on the opening

Certificate for pressure of 200 bar
Art. LT/SC-163100-500/M
LPG Sample Cylinder 500 ml Capacity
Art. LT/SC-163100-1000/M
LPG Sample Cylinder 1000 ml Capacity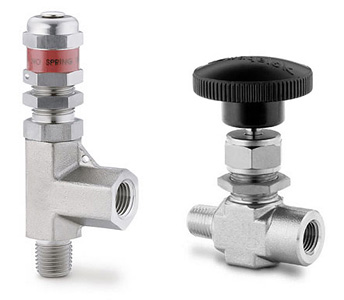 Ss Double-ended Dot-compliant Sample Cylinder, 1/4 In. Fnpt, 1800 Psig (124 Bar)
Body Material: 304L stainless Steel

Connection 1 Size: ¼ in

Connection 1 Type: FNPT

Connection 2 Size: ¼ in

Connection 2 Type: FNPT
SS Integral Bonnet Needle Valve, 0.73 Cv, 1/4 in. MNPT x 1/4 in. FNPT, Regulating Stem
Flow Pattern: Straight (2-way)
Valve Material: Stainless Steel
End Connection 1 Size: 1/4 in
End Connection 1 Type: MNPT
End Connection 2 Size: 1/4 in
End Connection 2 Type: FNPT
Handle Color: Black
Handle Style: Phenolic Knob
Cleaning: Standard cleaning SC-10
Lubricant: Perf. Polyether/Tung. Disulfide (WL7)
Stem Material: 316 Stainless Steel
Stem Plating Material: Chrome-plated 316
Stainless Steel
Stem Type: Regulating
Stem Tip Material: 316 Stainless Steel
Max Temperature with Pressure Rating: 232°C @ 236 BAR
Orifice: 250 in
Room Temperature
Pressure Rating: 344 BAR @ 37°C
SS High-Pressure Proportional Relief Valve, 1/4 in. MNPT x 1/4 in. FNPT, Buna N Seal
Service Class High Pressure
Size 1/8in
Valve Material 316 Stainless Steel
End Connection 1 Size 1/4 in
End Connection 1 Type Male NPT
End Connection 2 Size 1/4 in
End Connection 2 Type Female NPT
Max Temperature Pressure Rating 250°F @ 4910 PSIG /121°C @ 338 BAR
Room Temperature Pressure Rating 6000 PSIG @ 100°F /413 @ BAR
CE marked​