Cloud and Pour Point Refrigerator​
ASTM D97, ASTM D2500, ASTM D5853, DIN 51428, DIN 51597, IP 15, IP 219, IP 309
ISO 3015, ISO 3016
Pour Point of Petroleum Products
This test method is intended for use on any petroleum product. Suitable for black specimens, cylinder stock, and non-distillate fuel oil and for testing the fluidity of a residual fuel oil at a specified temperature is described.
Cloud Point of Petroleum Products
This test method covers only petroleum products that are transparent in layers 40 mm in thickness, and with a cloud point below 49°C.
Pour Point of Crude Oils
Art. LT/RB-53100/M
Cloud and Pour Point Refrigerator - 5 temperatures - Dry Bath
Floor Model

Structure made in light and resistant anodized aluminium with cover in PVC and 4 wheels for an easy transfer20 dry-clean wells in aluminium block (4 for each temperature) with holes for the thermometers

20 small stand-by covers

Working temperature: 0, -18, -33 , -51, -69°C

5 temperature digital controllers resolution 0,1°

5 PT 100 probes class A

5 main switches

CFC free gases
Dimensions
width 170 cm
depth 60 cm
height 92 cm
Weight
302 kg
​
Alternative Products
A sentence here about related products with image links below to products you want customer to consider.
Cloud and Pour Point Refrigerator
For more information on this product or to arrange a call from one of the Cea Petrochemical Team, please complete the contact form below.
Art. LT/RB-50000-W/M
Cloud and Pour Point Refrigerator - 4 temperatures - Liquid Bath
Floor Model

Light an resistant structure made in die-casted aluminium covered by special plastic material

Fitted with four wheels allowing movement

PVC cover with 16 wells (4 for each temperature) for accommodate 16 graduated jars

Equipped with 4 holes for thermometer accommodation (LT/RB-50000/M)

Equipped with 4 holes where liquid is poured and thermometer is placed (LT/RB-50000-W/M)

16 small stand-by covers

Working temperatures: 0, -18, -33 and -51 °C

Temperature is controlled by 4 digital thermo regulators (one for each temperature) fitted with a probe PT100 A

Automatic defrosting device low voltage

CFC free refrigerant gases are used
Dimensions
width 140 cm
depth 60 cm
height 92 cm
Weight
240 kg
​
Art. LT/RB-50000/M
Cloud and Pour Point Refrigerator - 4 temperatures - Dry Bath
​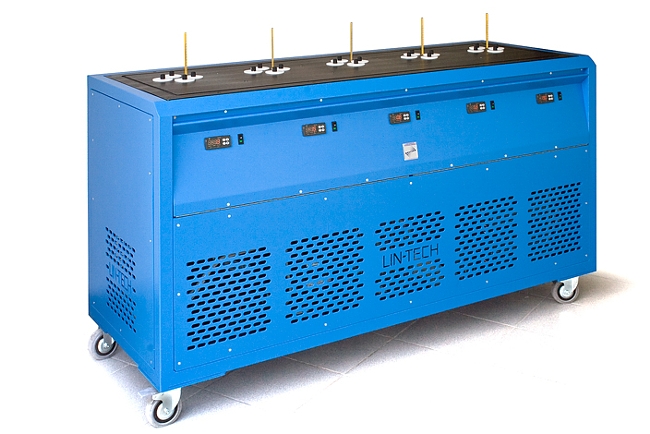 Art. LT/RB-53300/M
Cloud and Pour Point Refrigerator - 3 temperatures - Dry Bath
Floor Model

Light an resistant structure made in die-casted aluminium covered by special plastic material

Fitted with four wheels allowing movement

PVC cover with 12 wells (4 for each temperature) for accommodate 12 graduated jars

Equipped with 3 holes for thermometer accommodation

12 small stand-by covers

Working temperatures: 0, -17 and -33 °C

Temperature is controlled by 3 digital thermo regulators (one for each temperature) fitted with a probe PT100 A

Automatic defrosting device low voltage

CFC free refrigerant gases are used
Dimensions
width 110 cm
depth 60 cm
height 92 cm
Weight
170 kg​
Art. LT/RB-54000/M
Cloud and Pour Point Refrigerator - 1 temperature - Dry Bath
Bench top model made in aluminium with epoxy anti-acid paint

4 dry clean wells of test with thermometer hole

4 small stand-by covers

Working temperature: up to -69°C

1 temperature digital controllers resolution 0,1°

1 PT 100 probes class A

1 main switches

CFC free gases
Dimensions
width 66 cm
depth 60 cm
height 42 cm
Weight
90 kg
Accessories
LAB-100-332: digital stopwatch
LAB-100-491: test jar
LAB-100-492: cork cover
LAB-100-493: cork disk
LAB-100-494: insulating gasket
LAB-200-254: manual CFPP EN116 / IP309
SP-302-SA: air pump
T-AS5C: thermometer ASTM 5C - IP 1C
T-AS6C: thermometer ASTM 6C - IP 2C
Spare Parts
LAB-160-001: digital thermoregulator
Electrical Supply
220V ± 15% / 50 to 60 Hz
115V ± 15% / 60 Hz
Cord Cable
3 conductors flexible cable 2 m (7 feet) length with PVC sheath oil and heat resistant as per CENELEC directives
Ambient Temperature
Max 32 °C
H.R. 80%
CE marked